No Thanks Snow…. Crock Pot Comfort Meal to Cope
I am not a huge fan of snow, but I put on my big girl pants and suck it up during winter because I LOVE Northern Michigan summers and falls so much. Obviously I am not every excited about these April snow showers we are experiencing and even less excited because it is making it difficult for my quarantined kids and I to get outside. I decided that a warm, crock pot meal was in order to help me embrace the snow and cold and did a little chicken cacciatore for dinner last night.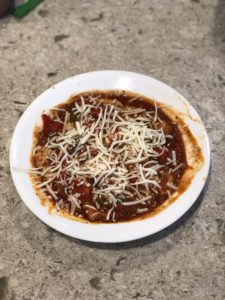 Slow Cooker Chicken Cacciatore
2 Tbs olive oil
4 chicken breasts
1 onion sliced
1 green pepper/1 red pepper sliced
1 8oz package of fresh slice mushrooms
1 jar pasta sauce
1 28oz can of diced tomatoes
2 large garlic cloves, minced
1 tsp Italian seasoning
1/2 tsp. dried basil
1/2 cup dry white wine
In a large skillet, heat olive oil over medium/high heat. Add chicken and brown on each side, transfer to slow cooker. In the same pan, cook onion over medium heat until soft. Add mushrooms, green and red peppers and cook until soft, transfer to crock pot. Mix in pasta sauce, diced tomatoes and white wine. Season with Italian seasoning, basil and garlic. Cook over high heat for 3-4 hours or low for 6-7 hours. When it is done, I like to shred the chicken a little bit so it absorbs some of the sauce. You can serve over noodles, or eat on its own, either way make sure you add some shredded mozzarella on top!
Enjoy! And hopefully you are coping with this snow better than I am!
Dr. Bekah